Update V.81 Maplestory Winter Wonder
  Llega el nuevo Parche de Maplestory que tendra buenas actualizaciones, sucedera hoy 20/01/2009 y afectara aproximadamente por 8 horas.
<MapleStory Update>
 – Server : All Game Servers
 – Time : 
    Pacific: Wednesday, January 20th, 2010, 12:00 AM ~ 8:00 AM
    Eastern: Wednesday, January 20th, 2010, 3:00 AM ~ 11:00 AM
Que nos trae la version .81 de Maplestory?
Monster Survival
Abandoned Subway
 Para lvl 25-30 en la estacion del metro en Kerning City en donde deberan entrar en la Dusty Platform donde combatiran en 3 etapas legendarias que de pasarlas podran optar por ir al Bonus 999 Map donde deberan matar mobs que te daran cajitas con USE items o bien ir a bonus through Mr. Lim donde si matas 10.000 Mobs te daran una medalla con las siguientes caracteristicas:
Req Lev: 25
HP: +90
MP: +90
Nett's Pyramid:
  Para jugadores mas experimentados (40+) deberan ir a Sahel 3 y hablar con Duarte ahi encontraran la entrada a la Piramide. Tiene 5 Etapas separadas segun la dificultad por el level de los jugadores (Facil (levels 40-45), Normal (levels 46-50), Dificil(levels 51-60), Infierno (levels 61+)). Una vez pasados los Stages puedes ir al Bonus Stage donde encontraras mobs que dropearan cajitas con USE items. Al igual que la otra PQ puedes obtener un Rank de S, A, B, y C dependiendo de los Miss, Kills.
 Mata a mas de 50.000 criaturas y recibe
Protector of Pharaoh medal:
Req. Lev: 40
HP: +120
MP: +120    
Royal Roll Call: Entra a Maplestory cada dia entre el 20/01 y 16/02 registrandote con Cassandra y recibiras al final del evento y recibiras
one-day 2010 Winter King o Winter Queen medal.
Gachapon Stamp:
 Por cada Gachapon Ticket que compres, recibiras Stams que podras cambiar por:
| | |
| --- | --- |
| 1 | White Elixir |
| 3 | Dynamite Drink EX |
| 5 | Energy Drink |
| 12 | 1 Safety Charm |
| 55 | VIP Teleport Rock |
| 100 | Aura Ring (90 days) |
| 200 | Henesys Hair Style Coupon (VIP) |
| 300 | Chaos Scroll |
| 500 | 1 Tiger Skin Chair |
Valentine's Day Events:
  Anticipandose a San Valentin (Dia de los Enamorados) Nexon nos entrega esta Quest que debes encontrar al Rey de Corazones y a Cody.
-Heart Chocolate: Ayuda al Ace gather con sus ingredientes y recibe a cambio 'heart' felt appreciation
Chocolate Basket: Junta los ingredientes para que te den un Safely Charm (Con esto no piedes experiencia si mueres)
Valentine's Day Drop!: Los montruos de Maplestory te dropearan rosas de muchos colores!
Cupid's Lost Arrows: Habla con Cassandra para que busques las flechas perdidas de cupido y podras ser premiado con Cupid's Wings Cape (Repetible cada 2 Hrs)
Mardi Gras Events:
Habla con Gaga para ver como involucrarte, deberas hacer party para juntar party beads y podras ser premiado con una maskara que dura 90 dias.
GM Events – Frantic Fridays
1/22/10 and 1/29/10
 Todos los Viernes entre el periodo de Eventos los GM Summonearan Monstruos …. Que cool… Lag Up Mode On.
Galicia 2x EXP Days
Eres de Galicia? Mas doble experiencia para ti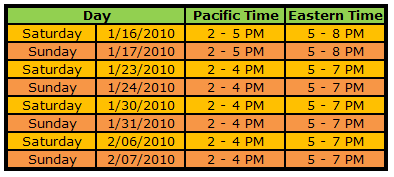 Aran's Gift – Reward's have arrived!
Es tiempo de recibir tu premio por crearte un Aran y cumplir ciertos requisitos, los detallamos en el articulo  Recibe tu premio por el Evento de Aran's en Maplestory.
  Todas las demas actualizaciones son del Juego, mapas, Cash shop, etc.
  Mantente informado en nuestro foro de Maplestory.
Te invitamos a que nos sigas por:
Tambien puedes recibir diariamente nuestros articulos directo en tu e-mail!